Kale chips are my absolute favourite healthy chips. It is so simple to make, there is no need to buy packaged kale chips. I even got my husband (a Dorito's lover) to switch over to kale chips. I have put a very basic recipe here I use that to make simple salty kale chips, but you can add your favourite seasoning to give your chips flavour! My favourite is the Garlic Lover's Seasoning from Flavour God!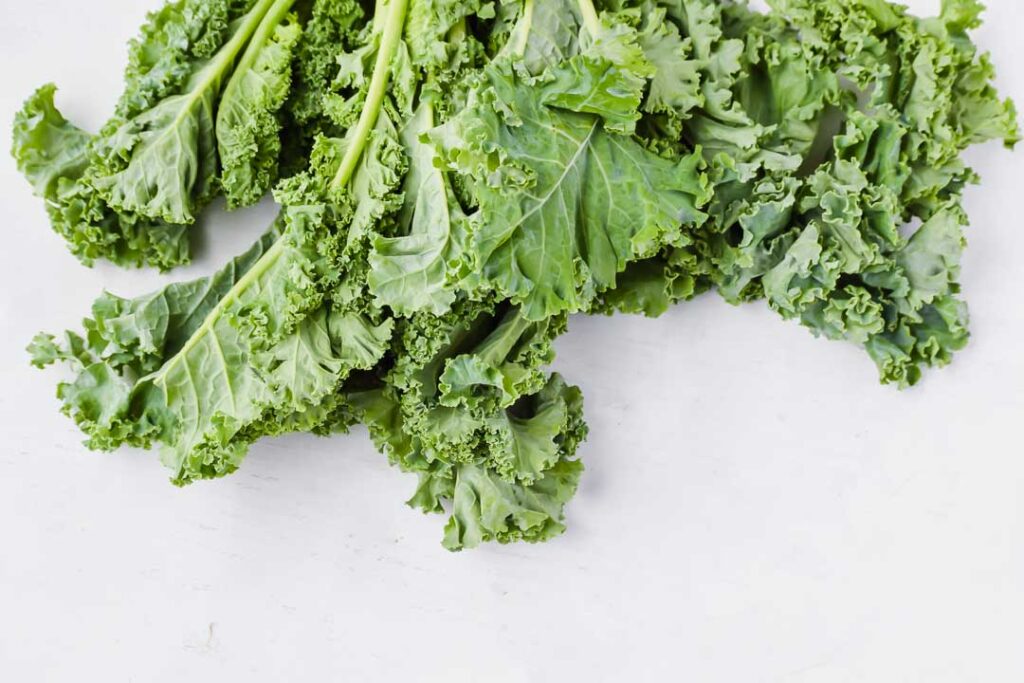 WHY YOU WILL LOVE THIS RECIPE
This recipe feeds your cravings for salty chips without having to worry about eating a bag of potatoes! Kale is a tougher leaf which makes it perfect for making chips.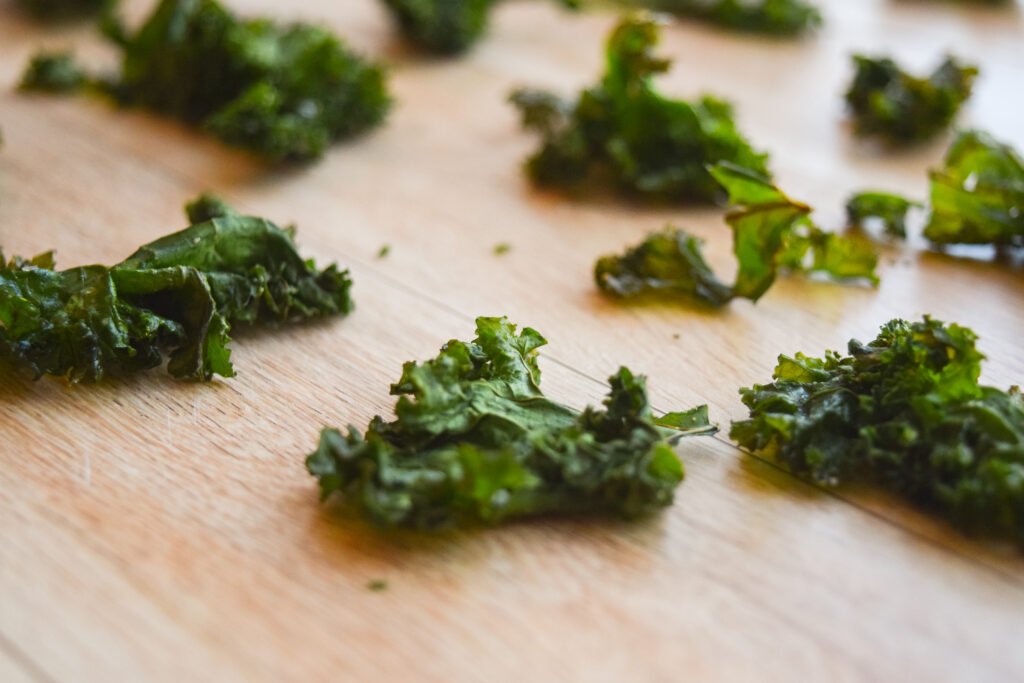 TIPS ON HOW TO PREPARE KALE FOR THIS RECIPE
Rip your kale from the stems! Kale is a thicker green leaf which means that it has more cellulose – making it's cell walls sturdier and stronger than your regular lettuce. Don't cut your kale with a knife! Rip it! It will rip along the cell walls, preserving more nutrients than if you had cut it with a knife!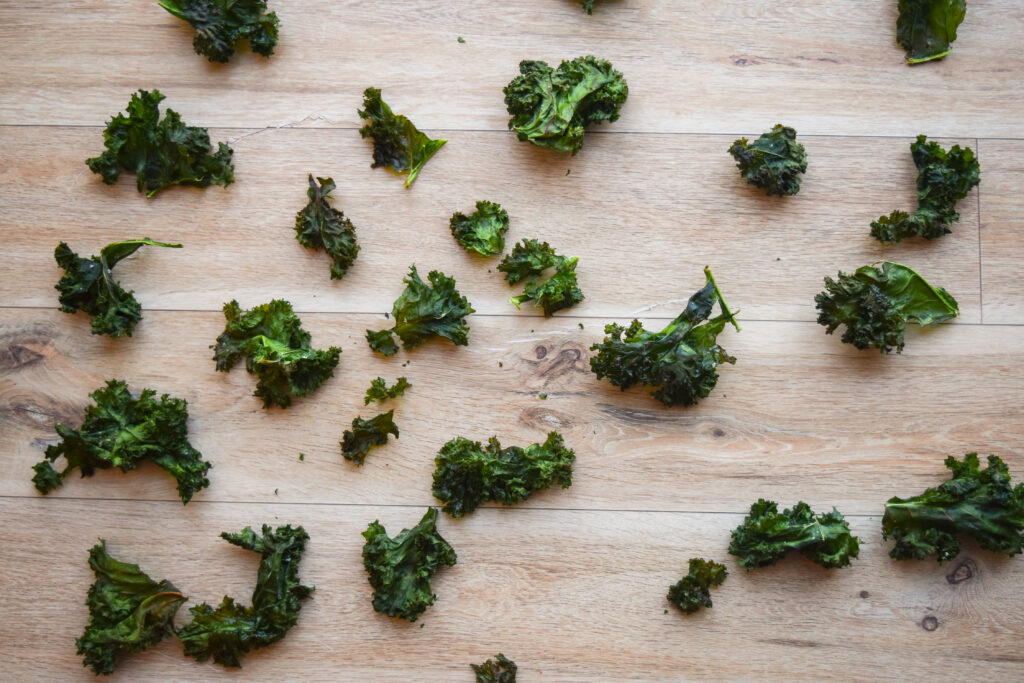 HEALTH BENEFITS OF KALE
Vitamin C – 1 cup of kale contains 134% of your Daily Value Intake of Vitamin C. Vitamin C is an antioxidant that helps with many cell functions.
Vitamin K – Kale is one of the best sources of VItamin K. 1 cup contains 684% of your Daily Value Intake of Vitamin K. Vitamin K is a nutrient needed in the body for blood clotting
OTHER RECIPES TO TRY IF YOU LOVED THIS ONE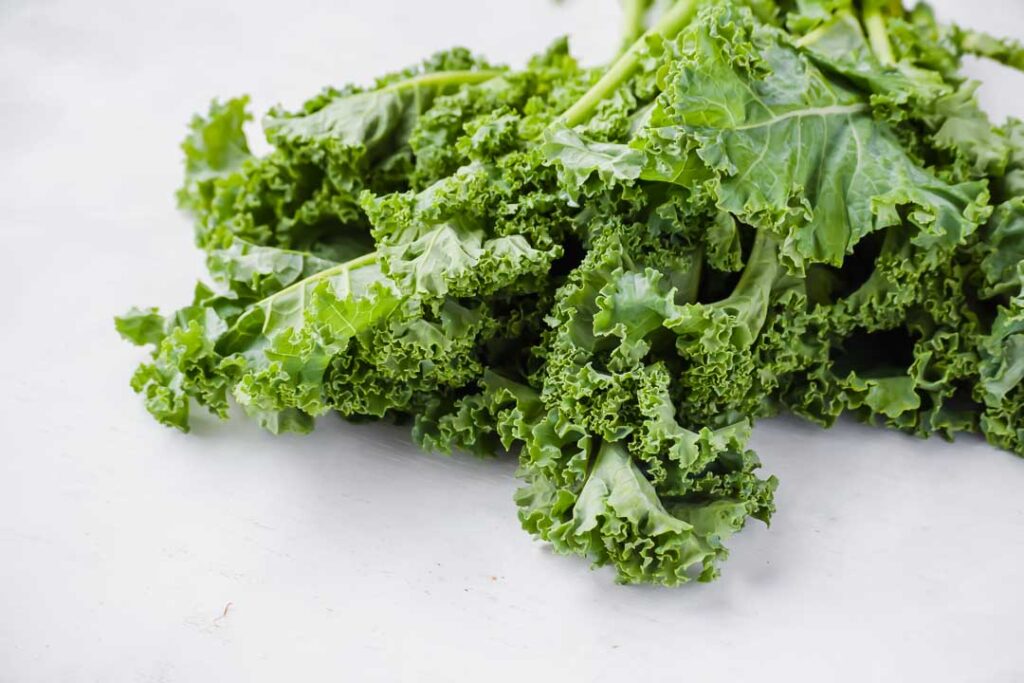 If you tried this recipe from Nadina's Kitchen, comment below and follow us on social media for more delicious recipes on Facebook, Instagram and Pinterest!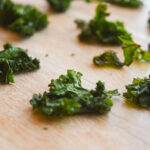 Print Recipe
Kale Chips
Ingredients
1

medium bunch of kale

2

tsp

of EVOO

a pinch of salt

a pinch of garlic powder
Instructions
Preheat over to 300 degrees F

Ensure that you have washed your kale thoroughly. I like to use a salad spinner to get all the water out of the kale

After all the water and moisture is out of your leaves, start to rip it from the stem into bite size pieces

Put all your kale into a bowl and add the 2 tsp of Extra Virgin Olive Oil

Start to massage the oil into your kale, until all of your kale is coated in olive oil and massaged thoroughly

Sprinkle the salt and garlic salt over the kale and toss to mix and coat over all the pieces

Bake in the oven for 10-15 mins, when you start to see the edges brown a bit

Remove from the oven and let them sit for 5 mins, so that they can continue to crisp up

Store in an airtight container for up to 3 days

Enjoy!