I am excited to share this butter cauliflower recipe! This is one of many recipes from my Indian series. This recipe is one of my favourite to have with basmati rice or garlic naan. This is what I consider to be a healthier version of butter chicken. Butter chicken is often made with heavy creamy and loads of butter, that upset the stomach of some people. This take on butter chicken is lighter but gives you all the flavour. The rich tomato flavour in this recipe paired with the cauliflower will satisfy your butter chicken cravings!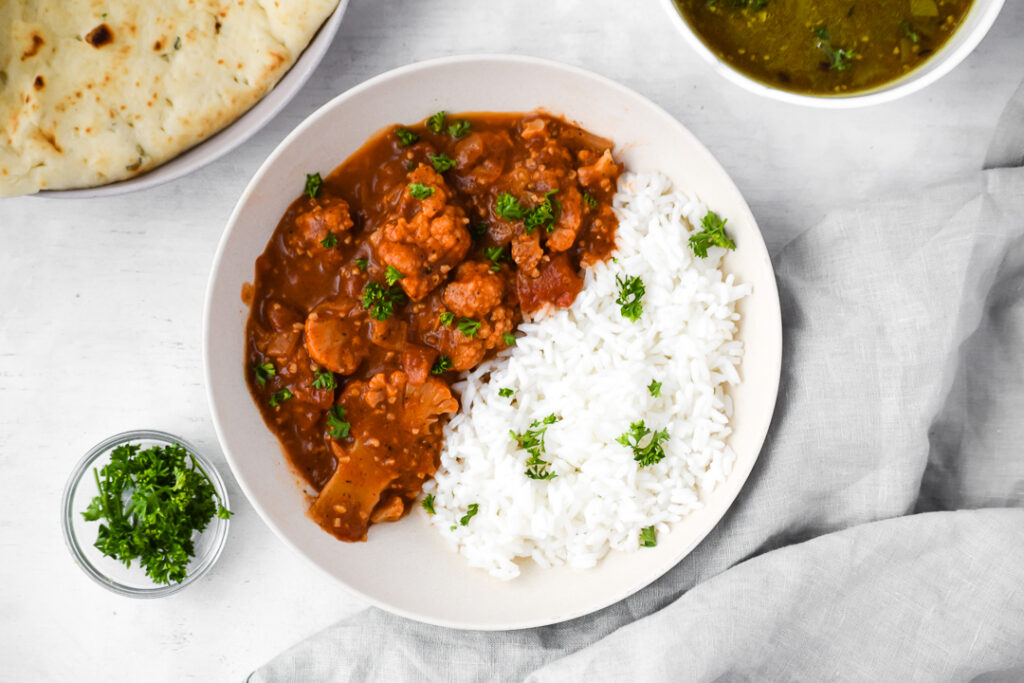 WHY YOU WILL LOVE THIS RECIPE
This butter cauliflower recipe is versatile and can be made differently if you are vegan or vegetarian. Take a look at the notes below for some variations. You will love this recipe because it does not lack flavour! This butter cauliflower is made with some of my favourite Indian spices – garam masala and cumin!
Have no fear if you do not like spice! You can make this recipe without the hot and spicy components. Take a look in the notes below for some options!
HEALTH BENEFITS OF CAULIFLOWER
Cauliflower is one of my favourite vegetables. I love how versatile this vegetable is. It can be used in so many recipes, like my favourite Buffalo Cauliflower Wings. Here are some health benefits of cauliflower:
Great Source of Vitamin C – Vitamin C is an antioxidant that can help with preventing or slowing down damage from free radicals
Great Source of Vitamin K – Vitamin K is an important vitamin in the body, as it help to move calcium from the blood into the bones
High in Fibre – Fibre is important for the body because feeds healthy bacteria in your gut. This promotes digestive health, and can help with digestive problems such as constipation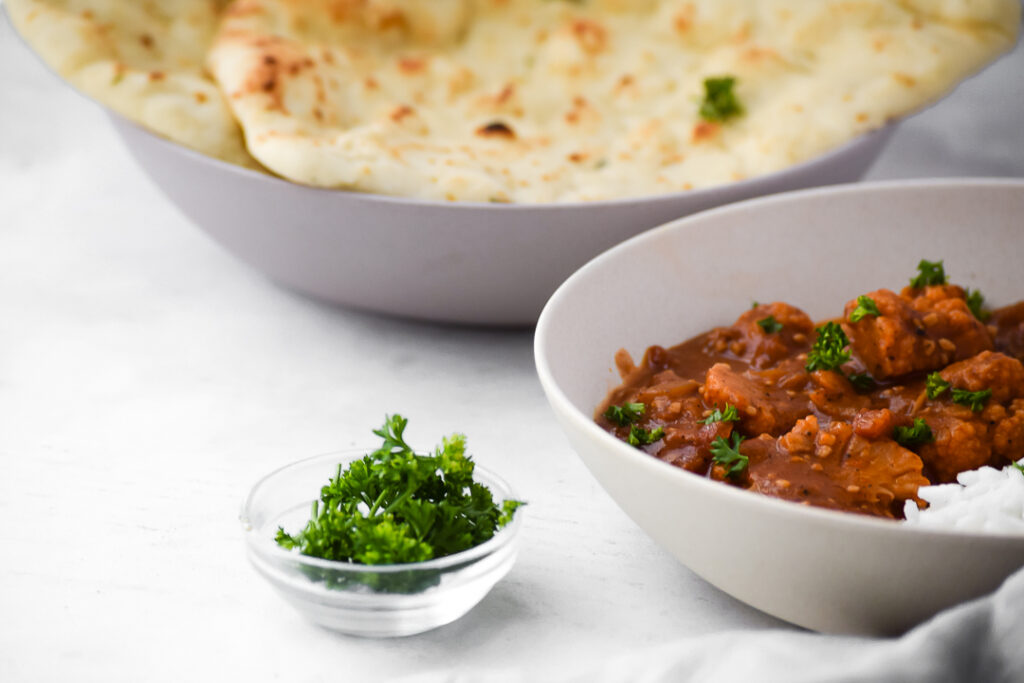 TIPS ON HOW TO MAKE THIS RECIPE
Serve this recipe with your favourite quinoa, rice, naan or roti
If you are vegan or don't want to use butter you can make this recipe with vegan (dairy-free) butter or olive oil
If you don't like spice…have no fear! Just take out the chilli powder and black pepper from this recipe
If you don't have vegetable broth handy, you can use water
You can also use dairy milk or dairy-free milk if you are vegan for this recipe. I like to use coconut milk to add some creaminess
If you are not a fan of cauliflower, try this recipe with chickpeas!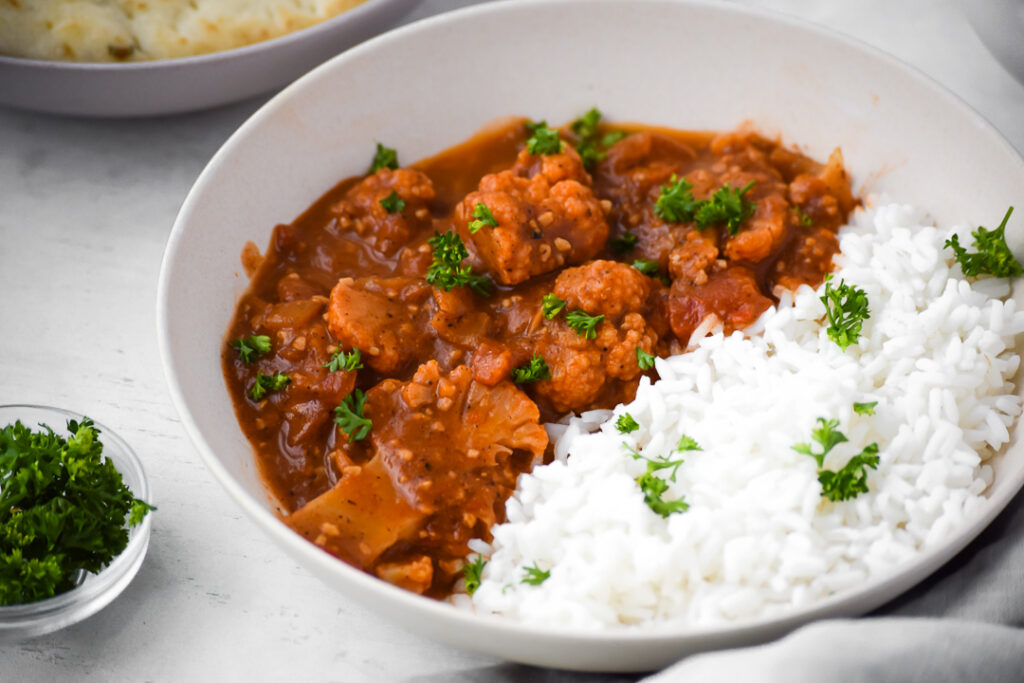 OTHER RECIPES TO TRY IF YOU LOVED THIS ONE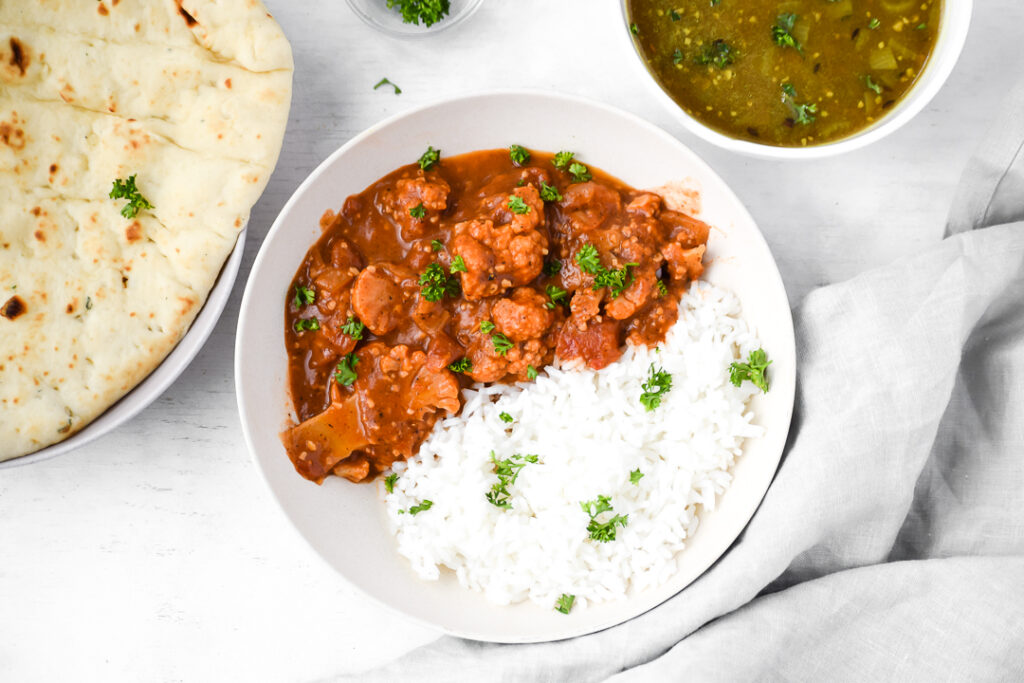 If you tried this recipe from Nadina's Kitchen, comment below and follow us on social media for more delicious recipes on Facebook, Instagram and Pinterest!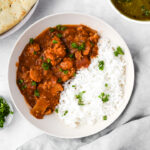 Print Recipe
Butter Caulifower
Ingredients
1

tbsp

butter

(or olive oil)

1

onion, diced

2

tbsp

minced garlic

1

tbsp

grated ginger

2

tsp

garam masala

1

tsp

ground cumin

1

tsp

chili powder/paprika/cayenne

¼

cup

tomato paste

1

can

crushed or diced tomatoes

(28 oz/795mL ca)

2

cups

vegetable stock

(You can use water if you prefer)

1

head cauliflower

(Washed and cut into florets)

1

cup

milk or milk alternative

¼

cup

cilantro

(chopped finely)

salt and pepper, to taste

Rice, Naan or Roti for serving
Instructions
In a large sauce pan melt butter (or heat oil)

Add onion and stir until translucent (2-3 mins)

Add garlic and stir until fragrant, ensuring not to burn it

In a small bowl add ginger, garam masala, chili powder, and cumin. Mix with water to make a small paste

Add paste to the saucepan with the tomato paste and stir until fragrant

Add vegetable stock (or water) and canned tomato

Season with salt and pepper to taste and bring to a boil

Reduce the heat and simmer, stirring occasionally until you have a thickened sauce (about 7-8 mins)

Stir in the cauliflower and cook until tender (10 mins)

When caulilower is cooked, add in milk and stir well

Stir in cilantro and let it heat through for 1 min

Check salt and pepper to taste again

Remove from heat and serve with your favourite rice, roti or naan
Notes
Serve this recipe with your favourite quinoa, rice, naan or roti
If you are vegan or don't want to use butter you can make this recipe with vegan (dairy-free) butter or olive oil
You can also use dairy milk or dairy-free milk if you are vegan for this recipe. I like to use coconut milk to add some creaminess 
If you don't like spice…have no fear! Just take out the chilli powder from this recipe
If you don't have vegetable broth handy, you can use water