Maple Berry Pavlova – I made this beauty for my husband's birthday! All the baking shows we have watched in quarantine have lead to this recipe. I have to be honest that I was very nervous to make this recipe. Working with meringues is very difficult, but I am here to tell you it is not that hard! I did it and it came out amazing!!! So definitely don't be scared to try this one at home!
This maple berry pavlova is a meringue-based dessert named after Ana Pavlova, a Russian ballerina. Which is why the meringue looks like a tutu!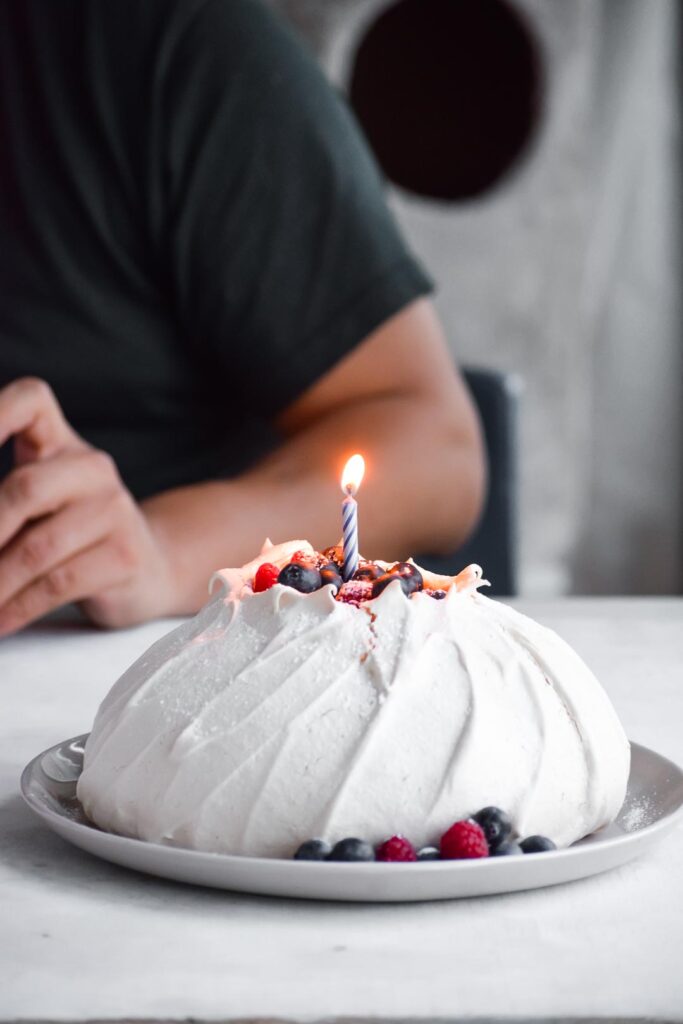 WHY YOU WILL LOVE THIS RECIPE
This delicate dessert consists of a hard meringue shell, but inside this maple berry pavlova is a marshmallow-like base. The rest of the hollow inside is filled with maple whipping cream and topped with fresh berries. This is definitely a show stopper for your next family gathering!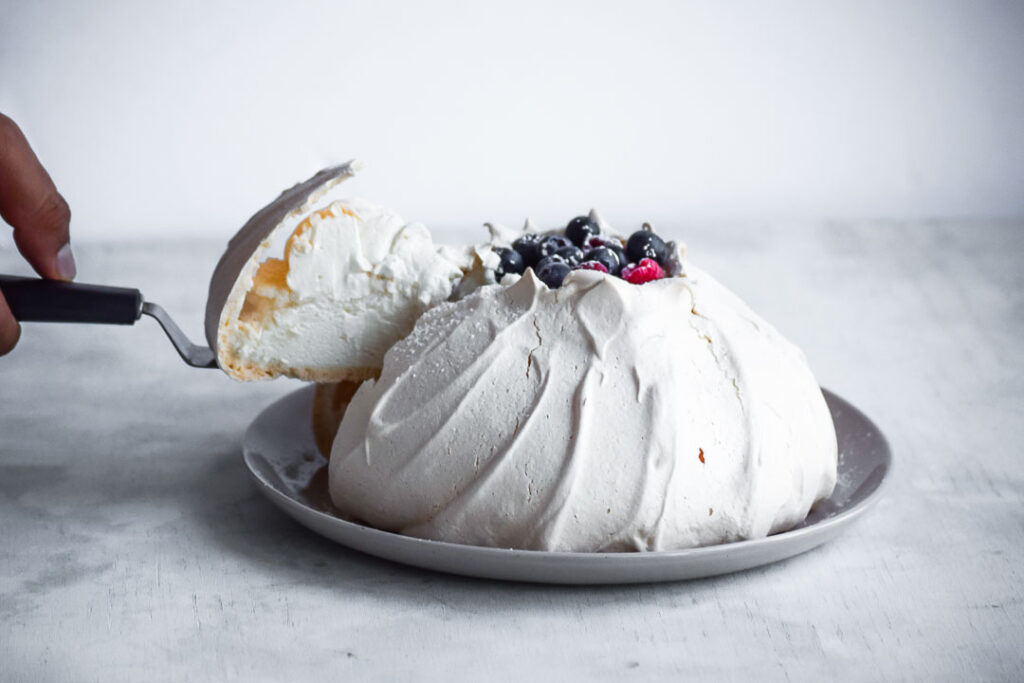 TIPS ON HOW TO MAKE THIS RECIPE
Do not use boxed egg whites! I did this the first time, but they did not come out stiff. You want to have a stiff meringue so using fresh eggs is your best bet. The proteins are still intact and stiff in egg white that comes straight from a cracked egg
Granulated sugar works best in this recipe if you have very fine crystals. If you cannot find it in your store, you can use a food processor to crush your sugar into small crystals
Designs: I made my look like a tutu but I've also seen people pipe pavlova onto the side of their mound to give it more texture and design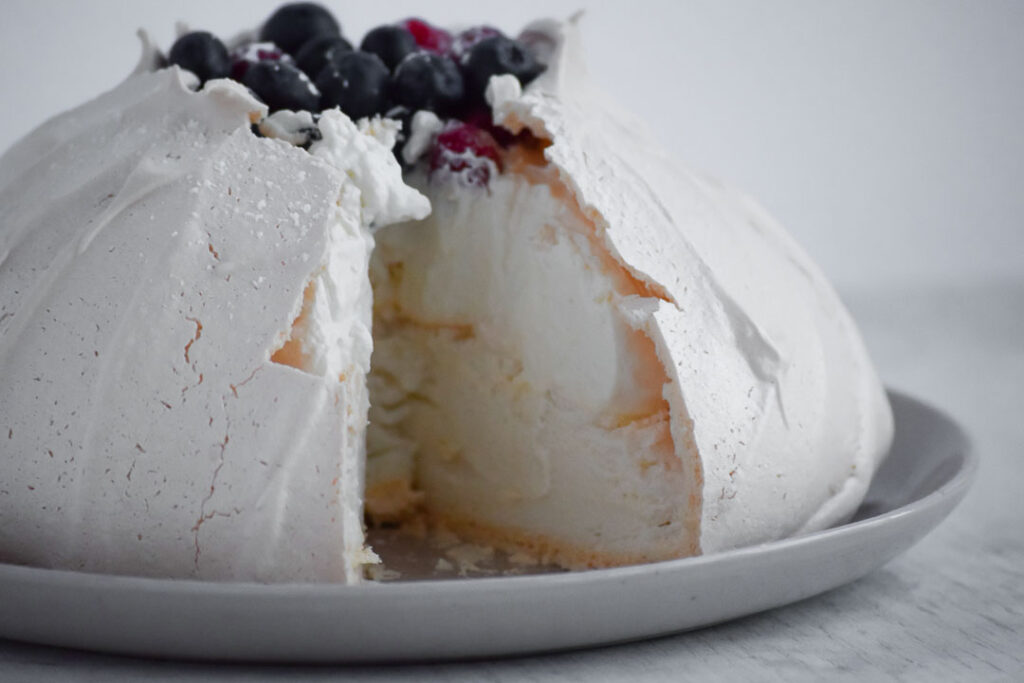 OTHER RECIPES TO TRY IF YOU LOVED THIS ONE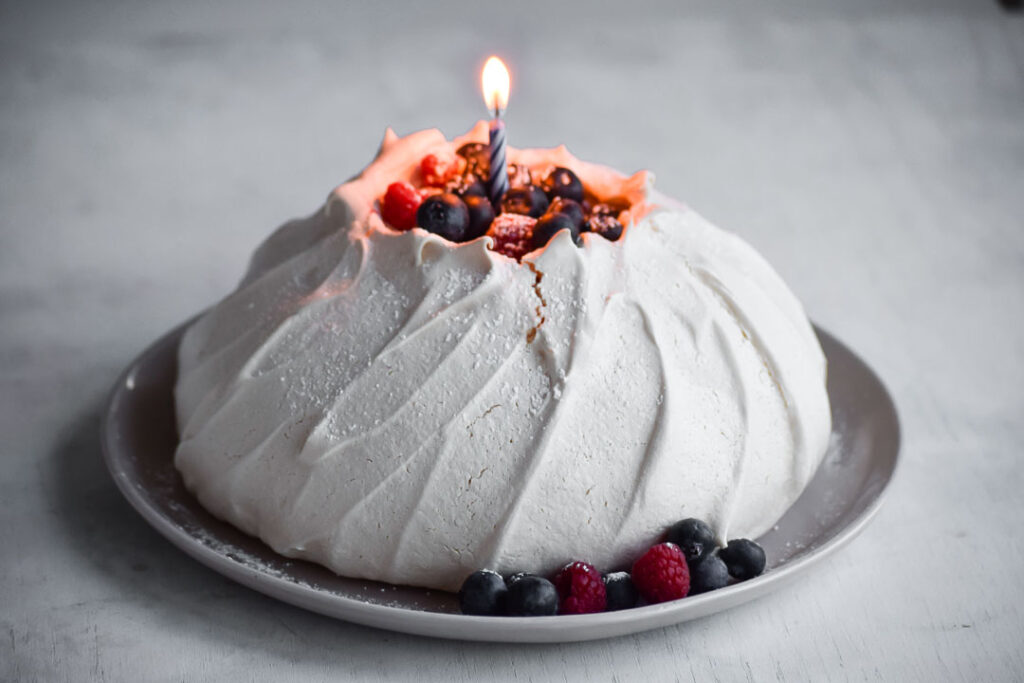 If you tried this recipe from Nadina's Kitchen, comment below and follow us on social media for more delicious recipes on Facebook, Instagram and Pinterest!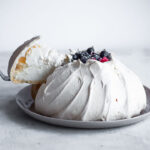 Print Recipe
Maple Berry Pavlova
Ingredients
Pavlova
5

egg whites

⅛

tsp

salt

⅛

tsp

cream of tartar

1¼

cup

granulated sugar

1

tsp

white vinegar

1

tsp

vanilla extract

1 ½

tbsp

corn starch
Maple Whipping Cream
1½

cups

heavy whipping cream

2

tbsp

granulated sugar

3

tbsp

maple syrup
Maple Whipping Cream (Dairy Free)
1½

cups

coconut whipped cream

3

tbsp

maple syrup
Topping
⅛

cup

icing sugar

½

cup

fresh mixed berries
Instructions
Pavlova Shell
Preheat oven to 260 degrees F and line baking sheet with parchment paper

Crack your fresh eggs keeping just the whites and add to the bowl of your stand mixer

Start to whisk your egg whites on medium speed until you start to see peaks

Add in the salt and cream of tartar

At this point you are looking for a stiff peak. Where your egg whites can stand up on their own

When you have a medium stiff peak, turn your mixer to a lower setting and start to add sugar one teaspoon at a time. This step will take a few minutes

Once you have added all the sugar, turn the mixer up high and whisk for 5 minutes. Watch your egg whites at this point to ensure that they getting stiff and glossy

Once your egg whites are glossy and stiff, you should be able to turn the bowl upside down and nothing will come out

Scoop meringue onto your parchment paper in a mound

Smooth out with a spatula and make the design you like. I used my spatula and swiped up on the side to make a tutu effect. See my note about designs

On the top of your pavlova make a crater. This will fall in while baking so that you can fill the inside

Bake for 1 hour a 260 F, then turn the heat down to 250 F and bake for another 40 mins

When you are done baking turn the heat off and let your pavlova sit there for at least 2 hours to dry out or overnight. Do not open the door too much or it will crack. Turn the light on in your oven instead!
Maple Whipped Cream
If you are making this dairy-free: fold the coconut whipped cream with maple syrup and whisk in your stand mixer to make fluffy

If you are using whipping cream: mix the heavy whipping cream with sugar for 3 minutes until you have light fluffy whipped cream. Fold in maple syrup

Leave whipped cream in the fridge until you are ready to use. If you find its a bit flat then whip up before putting into pavlova
Assembling
Put whipped cream into a large Ziploc bag or piping bag and fill center of pavlova with this

Top with fresh berries and icing sugar

This dessert is best enjoyed right away!
Notes
Do not use boxed egg whites! I did this the first time, but they did not come out stiff. You want to have a stiff meringue so using fresh eggs is your best bet. The proteins are still intact and stiff in egg white that comes straight from a cracked egg
Granulated sugar works best in this recipe if you have very fine crystals. If you cannot find it in your store, you can use a food processor to crush your sugar into small crystals
Designs: I made my look like a tutu but I've also seen people pipe pavlova onto the side of their mound to give it more texture and design