It seems like everyone is #covidbaking these days! Unfortunately, I know lots of people can't find yeast or even flour in the stores. Today I am going to show you a few ways that you can hack a boxed cake mix to make delicious cupcakes!
In case you were wondering why I am writing this blog post. Here is the story! So I was in the grocery store walking down the baking aisle. The entire aisle is empty. There is no flour or yeast. The only thing I saw were some boxes of cake mix. I was looking at all the boxes of cake mix left, and there were just a few – chocolate and white. What flavour is white??? I really don't know, but I bought it with the idea that I was going to spice it up!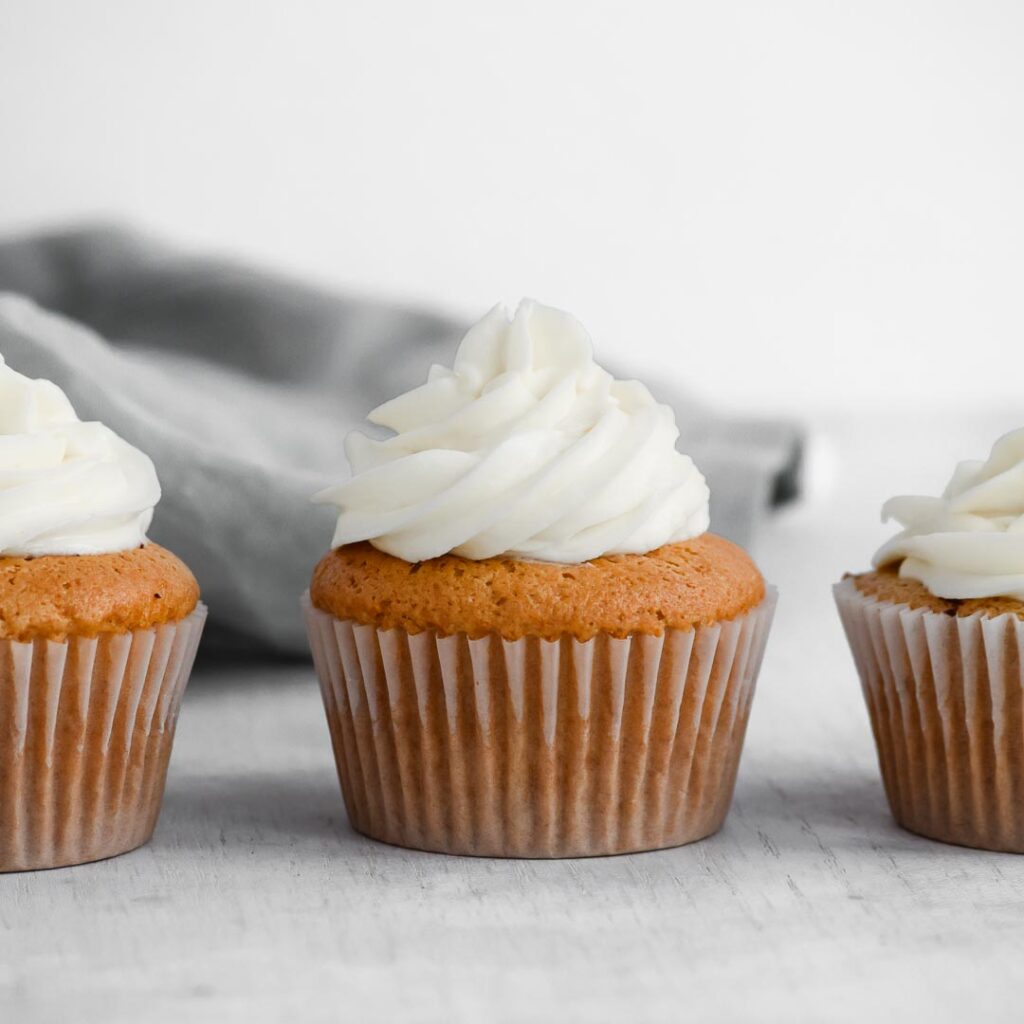 ADDING TO THE BATTER
So I decided to go for cupcakes with this recipe. I made the entire recipe as the box said. It called for vegetable oil, eggs, and water.
After creating the batter, I decided here I would add flavour. For this recipe, I made APPLE CINNAMON CUPCAKES. The full recipe is below.
I wanted to add lots of flavours here, so I added into the batter 2 TBSP of cinnamon and 1 TBSP of nutmeg. To also give a caramel taste to the batter I added 1/4 cup of dulce de leche, I had in the fridge.
I then spooned the batter into muffin cups and baked it for 20 mins. Follow your packaging for baking time.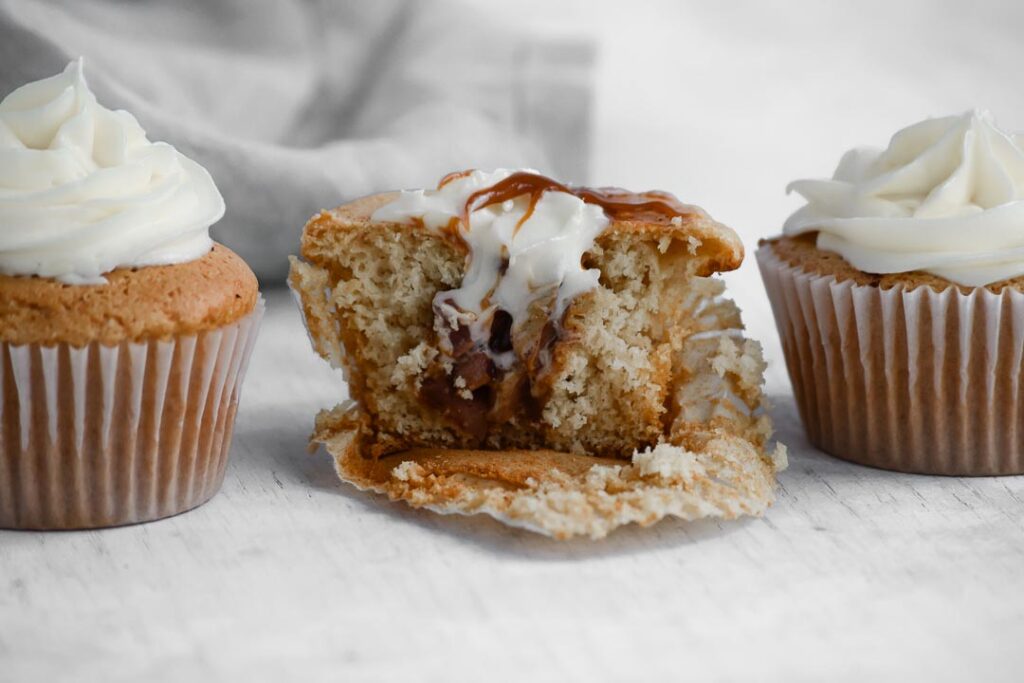 FILLING THE CUPCAKES
For this recipe, I filled the cupcakes with real apples I cooked. I chopped some apples into small pieces and cooked them on the stove for a few minutes with a bit of water and cinnamon. I made sure that they were nice and moist, but not mushy!
Using my Wilton 1M tip, I pulled out a piece of the cupcake, by sticking the piping piece in the centre of my cupcake.
I spooned a bit of the apple mixture in as well as 1tsp of dulce de leche. You can cover it back up using the piece you pulled our or just leave it exposed if you are going to ice the cupcakes.
I then iced these beauties with some white chocolate vanilla buttercream frosting!
Voila! Apple Cinnamon cupcakes made with a spiced batter and filled with apples and dulce de leche!
OTHER FLAVOURS TO TRY
Here are some other options I thought of that would be great to try with a box of white cake mix. These flavour combinations will add so much more to your cupcakes and have your family and friends excited!
PUMPKIN SPICE

Batter flavours: nutmeg and pumpkin spice seasoning
Filling: Cream cheese

CHOCOLATE CHIP

Batter flavour: chocolate chips
Filling: dark chocolate ganches

CARAMEL

Batter flavour: vanilla
Filling: caramel or dulce de leche
I hope you enjoyed this How to Hack a Boxed Cake Mix! Let me know if you tried this recipe and if you have any other flavour ideas. I am excited to share more hacks with you soon!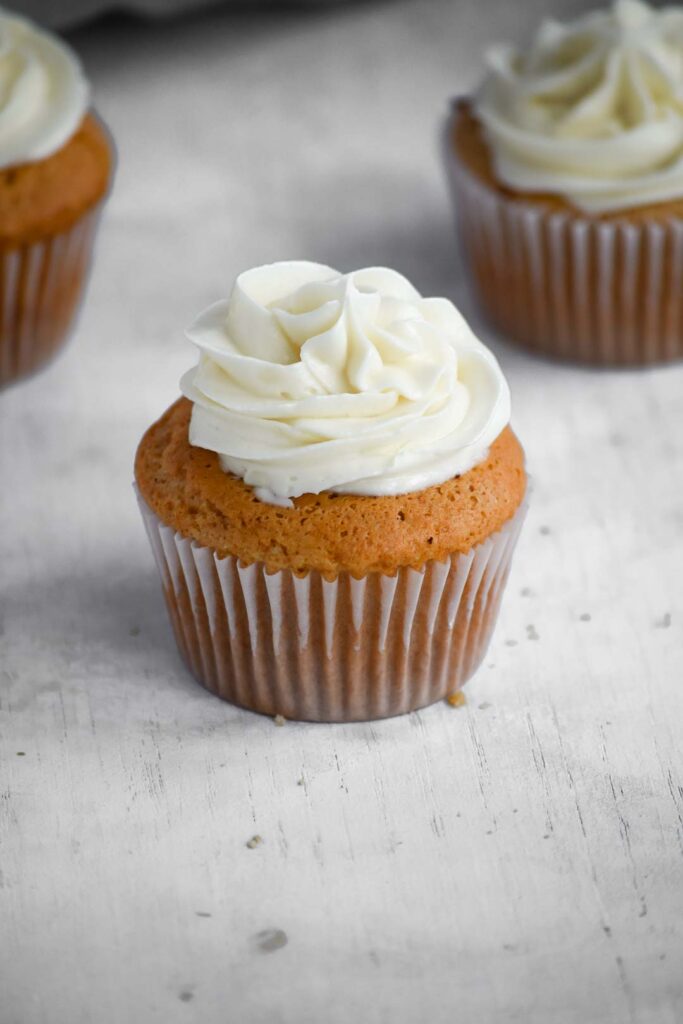 OTHER RECIPES TO TRY IF YOU LOVED THIS ONE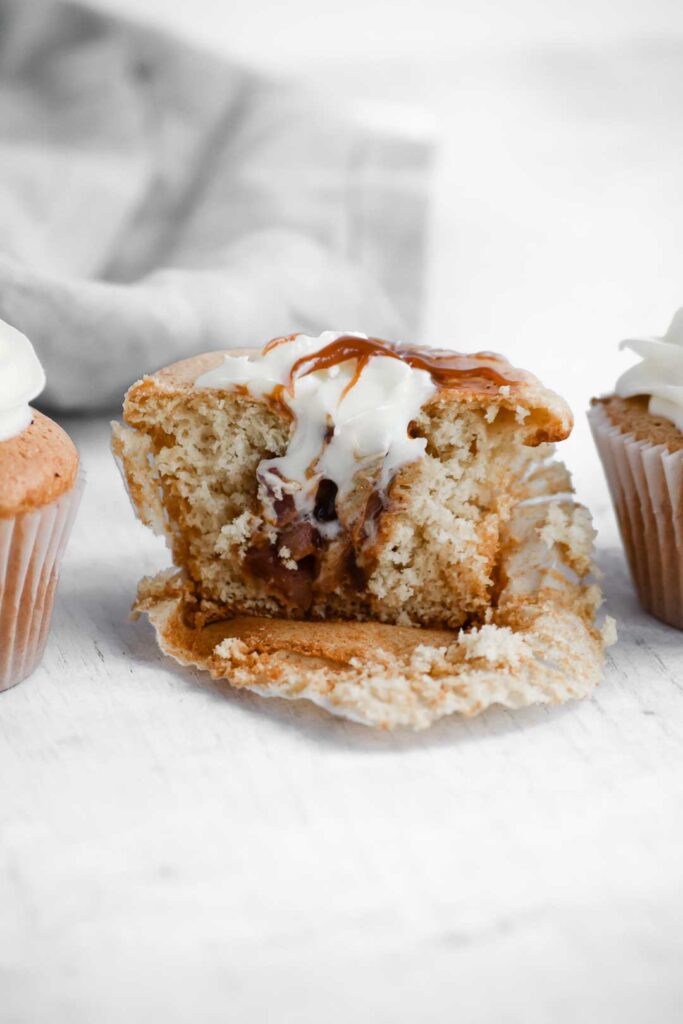 If you tried this hack from Nadina's Kitchen, comment below and follow us on social media for more delicious recipes on Facebook, Instagram and Pinterest!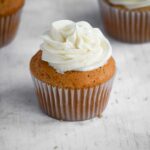 Print Recipe
Apple Cinnamon Cupcakes
Ingredients
Batter
1

box

white cake mix

3

eggs

⅓

cup

vegetable oil

2

tbsp

cinnamon

1

tbsp

nutmeg

¼

cup

dulce de leche

(or caramel)
Filling
2

apples

1

tbsp

cinnamon

1-2

tbsp

water

½

cup

dulce de leche
White Chocolate Icing
1

cup

butter

(room temperature)

3

cups

icing sugar

(sifted)

1

tsp

vanilla extract

1

tsp

almond extract

8

oz

white chocolate

(melted)
Instructions
Preheat oven according to box and line 24 cupcake tins with liners
Batter
Mix batter according to back of the box. My white cake mix box called for eggs, oil, and water.

Once you had your regular batter, add in the cinnamon, nutmeg and dulce de leche

Scoop batter into liner using an ice cream scoop or spoon

Bake according to the time on the box

Take the cupcakes out of the oven and allow them to cool for 10-15 minutes
Filling
In the meantime, prepare your filling by chopping apples into small pieces. Remove the apple skin for faster cooking time

Cook the apples, cinnamon and water on medium heat for about 5-10 minutes. Until the apples are starting to get soft

Remove from stovetop and allow apple mixture to cool

You can make your icing in this time
White Chocolate Vanilla Icing
Using a hand or stand mixer, beat your butter until smooth. Add vanilla and almond extract

Keep mixing, while adding in the melted white chocolate

Next add the sifted icing sugar, 1 cup at a time

Put your mixer up to the high setting and continue to mix for 2-3 minutes until the icing is light and fluffy
Putting it all together!
First start by filling cupcakes with apple cinnamon mixture.

Remove the middle of the cupcake with an icing tip

Scoop in 1 tsp of apple and 1 tsp of dulce de leche

You can cover it back with the piece of cake you removed, or leave it exposed if you are going to ice it

Next ice the cupcakes with a piping bag and wilton 1M tip OR just spread the icing on top and decorate!
Notes
Make sure to follow the baking directions on the back of your cake mix
You can decorate these cupcakes with sprinkles or drizzle caramel on top!